One of the cornerstones of implementation science is the use of theory.
Unfortunately, the vast number of tools available in the implementation science toolkit can make it difficult to determine which is the most appropriate to address or frame a research question. There are dozens of theories, models, and frameworks used in implementation science that have been developed across a wide range of disciplines, and more are published each year.
Two recent reviews provide schemas to organize implementation science theories, models, and frameworks and narrow the range of choices: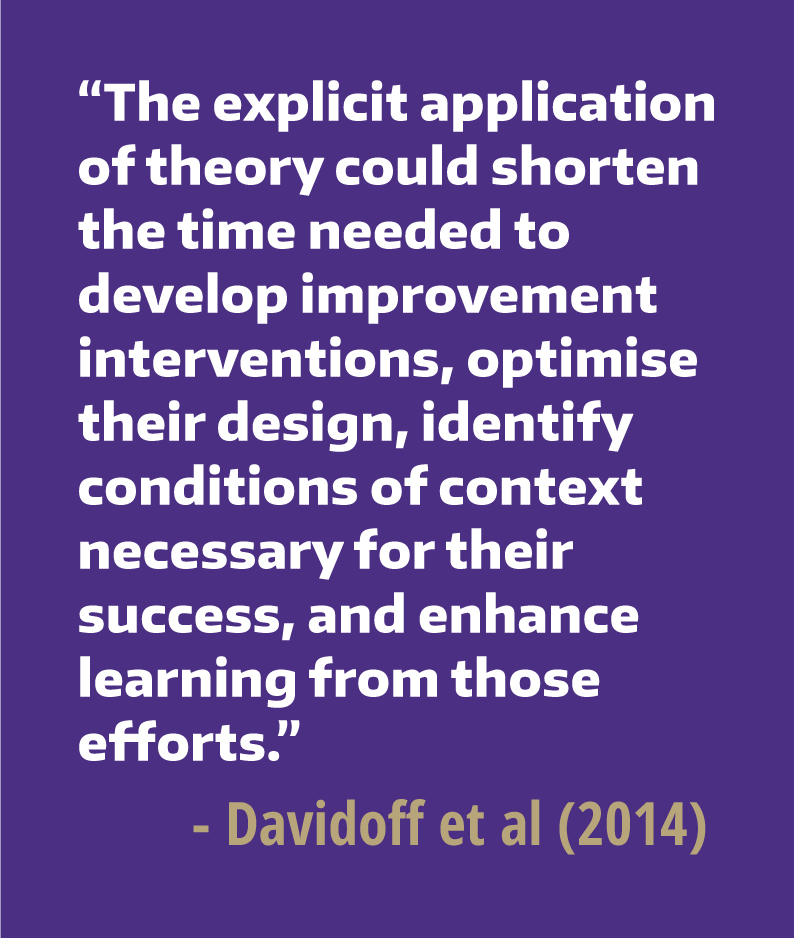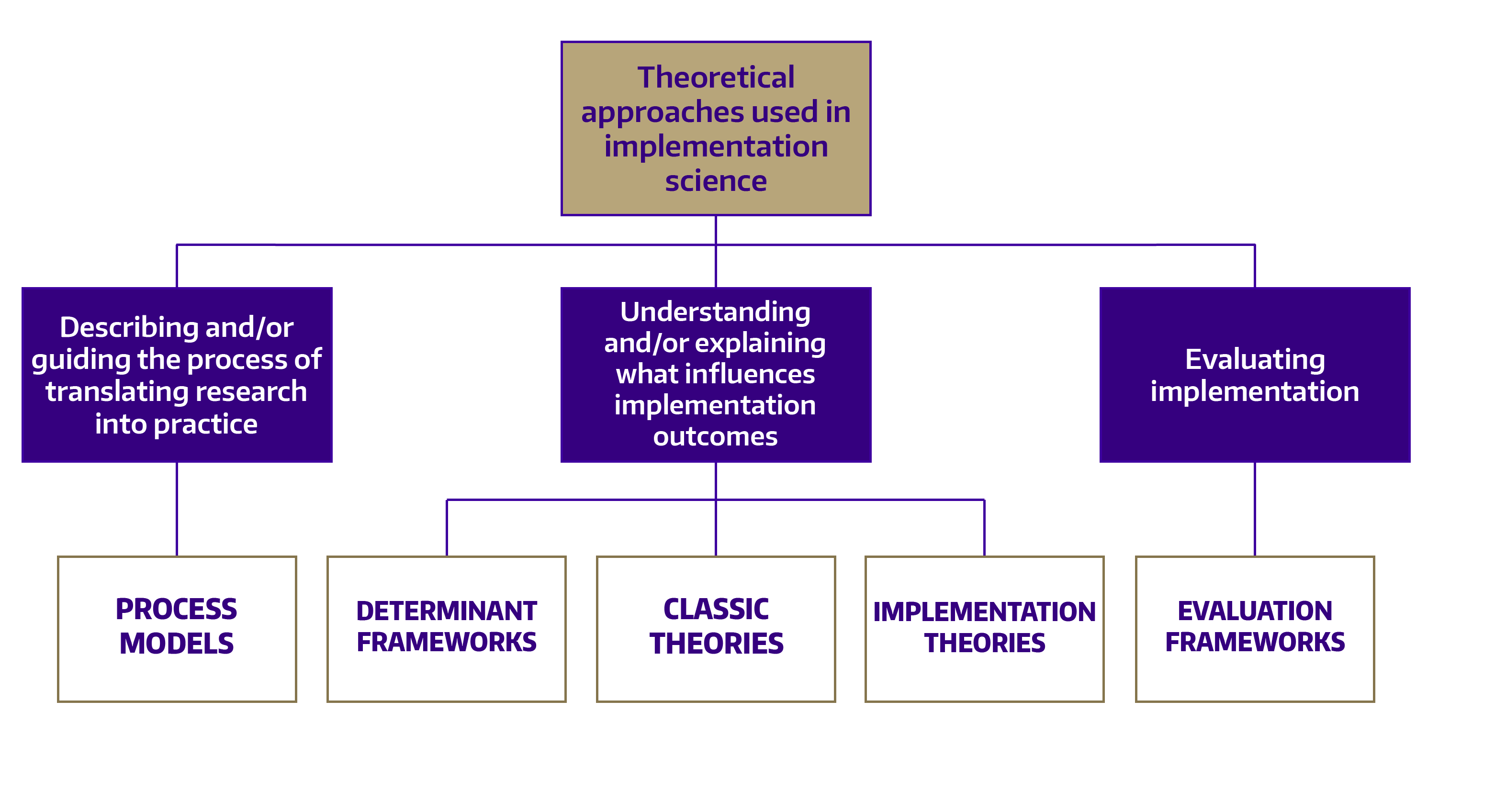 Adapted from: Nilsen P. Making sense of implementation theories, models and frameworks. Implement Sci. 2015;10(1):1-13.
Below, we borrow from Nilsen's schema to organize overviews of a selection of implementation science theories, models, and frameworks. In each overview, you will find links to additional resources.
Please note some journals will require subscriptions to access a linked article.
What are you using implementation science to accomplish?
Diffusion of Innovation theory has its roots in the early twentieth century, but the modern theory is credited to Everett Rogers with his publication in 1962 of
Diffusion of Innovations
. This theory holds that adopters of an innovation can be split into five categories that distribute in a Bell curve over time: innovators (2.5%), early adopters (13.5%), early majority (34%), late majority (34%) and laggards (16%). Further, the theory states that any given adopter's desire and ability to adopt an innovation is individual, based on information about, exposure to, and experience of the innovation and adoption process.
Learn More:
In 2005 the National Institutes of Health published the second edition of Theory at a Glance: A Guide For Health Promotion Practice, which provides an overview of theories across the ecology of behavior change in health behavior. This primer is a useful way to learn about various theories in a manner that, to quote the Forward, is 'neither overwhelming nor superficial.' Below we have selected a few theories from the intrapersonal and interpersonal ecological levels that are most relevant to implementation science.
While not specific to implementation science, there are two intrapersonal behavioral theories most often used to interpret individual behavior variation:
The Health Belief Model: One of the initial theories of health behavior, the HBM was developed in the 1950s by a group of social psychologists in the U.S. Public Health Service wishing to understand why health improvement services were not being used. The HBM, which eventually arose from this work, posited that in the health behavior context readiness to act arises from six factors: perceived susceptibility, perceived severity. perceived benefits, perceived barriers, a cue to action, and self-efficacy. For a thorough explanation of the history of the Health Belief Model, please refer to Rosenstock's 1974 publication "Historical Origins of the Health Belief Model" (Health Education Monographs).
The Theory of Planned Behavior: This theory, developed by Ajzen in the late 1980s and formalized in 1991, sees the primary driver of behavior as being behavioral intention. Through the lens of the TPB, behavioral intention is believed to be influenced by an individual's attitude, their perception of peers' subjective norms, and the individual's perceived behavioral control.
At the interpersonal behavior level, where individual behavior is influenced by a social environment, Social Cognitive Theory is the most widely used theory in health behavior research.
Social Cognitive Theory: Published by Bandera in the 1978 article, Self-efficacy: Toward a unifying theory of behavioral change, SCT consists of six main constructs: reciprocal determinism, behavioral capability, expectations, observational learning, reinforcements, and self-efficacy (which is seen as the most important personal factor in changing behavior).
Examples of use in implementation science:
The Health Belief Model
The Theory of Planned Behavior
Social Cognitive Theory
In 2009, Bryan Weiner
developed a theory of organizational readiness for change
to address the lack of theoretical development or empirical study of the commonly used construct. In the development article, organizational readiness for change is conceptually defined and a theory of its determinants and outcomes is developed. The focus on the organizational level of analysis filled a theoretical gap necessary to address in order to refine approaches to improving healthcare delivery entailing collective behavior change and in 2014, Shea et al
published a measure of organizational readiness for implementing change
, based on Weiner's 2009 theory, available open access through
Implementation Science
.
Learn More:
In 2011, Weiner, Belden, Bergmire, and Johnston published
The meaning and measurement of implementation climate
in
Implementation Science
to address the lack of theory behind the impact of climate in innovation implementation. They argued that implementation climate is distinct from constructs such as organizational climate, culture, or context in both its strategic focus on implementation and because it is innovation-specific.
Learn More:
In 2010, Elizabeth Murray and colleagues published
Normalisation process theory: a framework for developing, evaluating and implementing complex interventions
, comprised of four major components: Coherence, Cognitive Participation, Collective Action, and Reflexive Monitoring. The authors argued that using normalisation process theory could enable researchers to think through issues of implementation concurrently while designing a complex intervention and its evaluation. They additionally held that normalisation process theory could improve trial design by highlighting possible recruitment or data collection issues.
Learn More:
In 1999, authors Glasgow, Vogt, and Boles developed this framework because they felt tightly controlled efficacy studies weren't very helpful in informing program scale-up or in understanding actual public health impact of an intervention. The RE-AIM framework has been refined over time to guide the design and evaluation of complex interventions in order to maximize real-life public health impact. This framework can thus help researchers collect information needed to translate research to effective practice, and may also be used to guide implementation and potential scale-up activities. You can read the original
framework development article
in
The American Journal of Public Health
. Additional resources, support, and publications on the RE-AIM framework can be found at
RE-AIM.org
.
Learn More:
In their 2011 publication, Proctor and colleagues proposed that implementation outcomes should be distinct from service outcomes or clinical outcomes. They identified eight discrete implementation outcomes (acceptability, adoption, appropriateness, feasibility, fidelity, implementation cost, penetration, and sustainability) and proposed a taxonomy to define them.
The framework development article,
Outcomes for Implementation Research: Conceptual Distinctions, Measurement Challenges, and Research Agenda
, is available through
Administration and Policy in Mental Health and Mental Health Services Research
.
Proctor E, Silmere H, Raghavan R, et al. Outcomes for implementation research: Conceptual distinctions, measurement challenges, and research agenda. Adm Policy Ment Heal Ment Heal Serv Res. 2011. doi:10.1007/s10488-010-0319-7
Learn More: